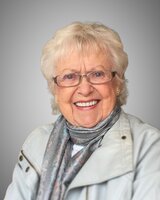 Pauline Thérèse St.Pierre
Pauline St.Pierre (nee Carr)
September 12, 1931 ~ December 20, 2022
December 20th, 2022, after a courageous battle, peacefully with family by her side.
Pauline was a devoted mother, she exemplified strength and generosity throughout her life and we were truly blessed with her love and wisdom. She never failed being present for those she loved, thoughtful and supportive through the good times and the challenges. Mom had a warm, easy going way about her that was undeniable. Energetic and young at heart, she enjoyed the simple pleasures. Quick witted, intelligent and kind, she loved good company, a glass of wine, wildflowers, talking politics and sharing stories. She laughed often, and was mindful of those around her. As tiny as she was, she was larger than life, and she was our rock.
Predeceased by her beloved husband, Stephen St.Pierre, parents, Marie-Anna Fortier and Harry Carr, brother Lincoln Carr and by sons-in-law, John Gravel and Neil Croft. Survived by her children, Susan, Sandra, Stephen and Stacey (Albert). Our beloved Nan was a wonderful grandmother to Lucinda (Mike), Michael, Christopher, Tina, Jacob, Mariah (Brody), Stephanie and Justin, and a cherished great grandmother to Colin and Emma. Pauline enjoyed timeless friendships over the years and will be remembered with great love by friends and family near and far. Her sense of humour and graciousness live on in our fondest memories.
We are grateful for the care and support she received from the many wonderful health care workers and professionals through this difficult journey.
Our beautiful mother now rests in peace, perhaps she is dancing with dad, reunited with precious old friends, watching over those she left behind. We will miss her dearly, and always remember her love.
A gathering in her honour will take place at a later date.