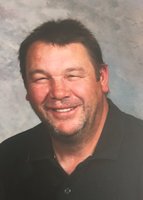 Rodney Howes
March 4, 2019 died accidently; four days before his forty-eighth birthday while away from his home at a work camp in Alberta. Rodney leaves behind his cherished wife Novie (Rasimo) and two special daughters Faith and Therese. Eldest son of Ray and Linda (Montgomery) Howes, brother to Christie (Robin), Ian and Caley. Adored uncle of Collin, Hadrian, Brenna, Hannah, Katherine and Cayleb whom he never missed an opportunity to send a gift to. Will be greatly missed by the many extended family and friends.
Resting at Reynars Funeral Home & Crematorium, 1300 - 102 Ave, Dawson Creek, BC (250) 782-2424. A Funeral Service will be held on Monday, March 11, 2019 at 2 pm at Notre Dame Catholic Church, 908 - 104 Ave., Dawson Creek, BC.
A Celebration of Rodney's Life will be held at Glengarry Funeral Home, 580 Main Street South, Alexandria, ON (613) 525-3400 on Saturday, March 23, 2019 from 1 - 4 pm, eulogies to be presented at 3 pm.
In honor of Rodney, donations can be made to Char-Lan District High School for Rodney Howes Bursary Fund for graduating students studying Heavy Equipment Operator.